Here you can find where your favorite guest and vendors will be located.
Important – Latest updates: Straight from the Expo center and the city of KC. Mask are only by your choice, if you are concerned and worried about such wear one, if you are vaccinated and feel you don't then don't. If you approach a guest and they have a plexiglass in front of them, they probably are concerned or not vaccinated. Again please respect their concerns and work with them as they feel comfortable especially if you are not wearing a mask. Again we are only concerned about keeping everyone safe and happy, but hope this makes any of you feel better about the situation. We stay in direct contact with the venue and the city. They are saying it is OK at this point and again if you feel you need the protection, then wear one. Thank you everyone for your understanding and support.
See you all there.
PS – the expo center has the right to change the rules of mask if the city should change them as well.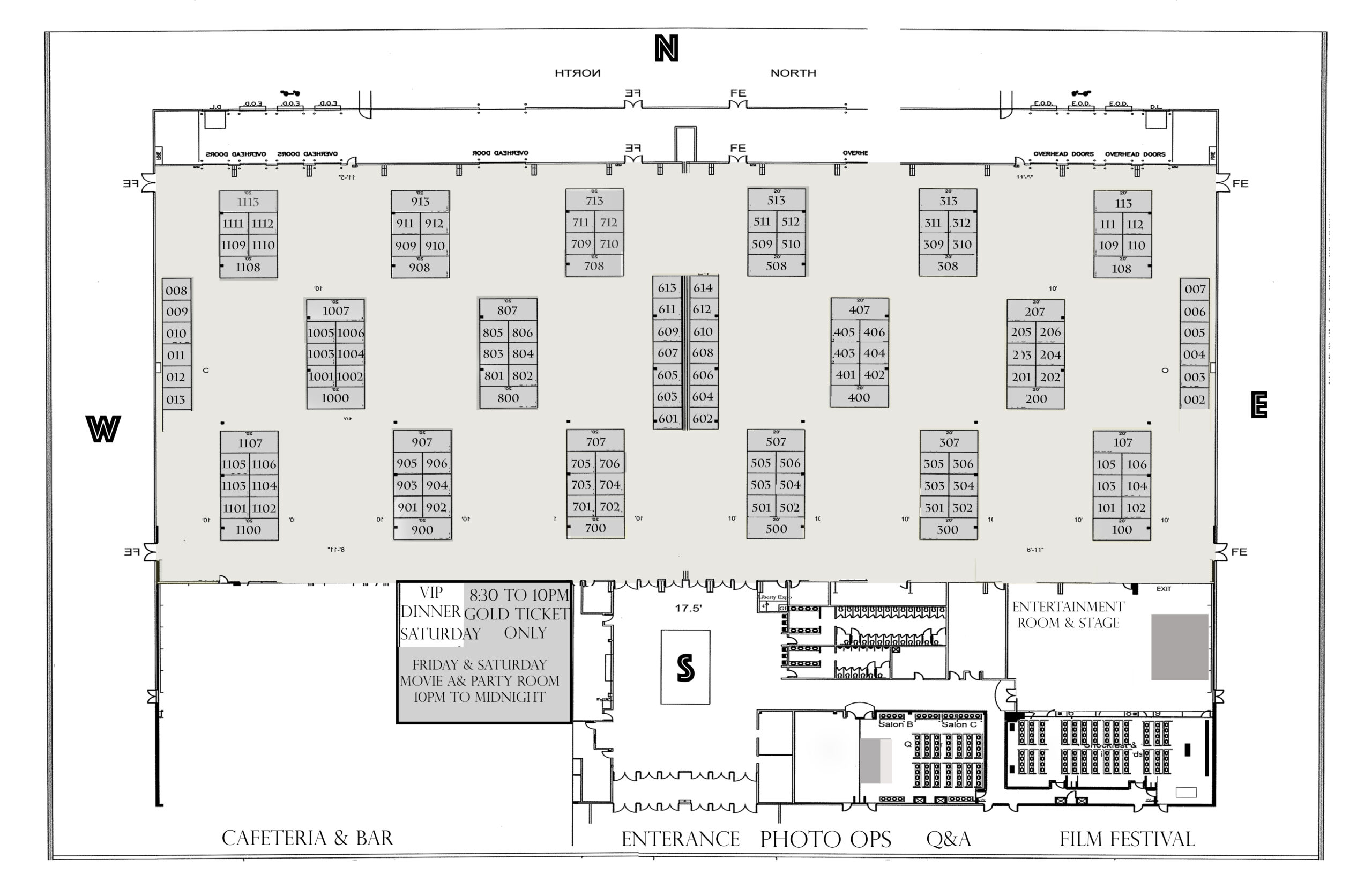 Booth No. Booth Name
| | |
| --- | --- |
| 2 | Ross Marquand |
| 3 | Ross Marquand |
| 4 | Jason Douglas |
| 5 | Ve Neil |
| 6 | Zack Galligan |
| 7 | Danielle Bisutti  |
| 8 | Bonnie Arrons |
| 9 | Vinnie Appice |
| 10 | Drew Fortnier |
| 11 | Dana  Delorenzo |
| 12 | Paparzzi Jewelry |
| 13 | ISKCON Krishnafest Inc |
| 100 | Independent Tattoo |
| 101 | Independent Tattoo |
| 102 | Inner Self Aura Photography & 3D Imaging |
| 103 | SPOOKY BABY |
| 104 | Inner Self Aura Photography & 3D Imaging |
| 105 | KC Brick Lab |
| 106 | Zombie on Canvas |
| 107 | Jamie Coker Creations |
| 108 | Brocksmith Designs/Toxic Haunt |
| 109 | Supernova Art Studio |
| 110 | Messed Up Puzzles |
| 111 | Michael Schultz Creative |
| 112 | ASHLEE FOLSOM |
| 113 | Andrea Robson |
| 200 | The Armorer of Lyle Miller |
| 201 | Dead Lantern Pictures |
| 202 | Vinegar Syndrome LLC |
| 203 | Red Death Studios |
| 204 | Rotten Rentals |
| 205 | The Stairs Movie |
| 206 | Ran Groce |
| 207 | End Zone Collectibles |
| 300 | Go Blue Printing & Design |
| 301 | Crude Comics & Entertainment |
| 302 | Mark Rice |
| 303 | Majikah |
| 304 | Bombshell Bath & Beauty |
| 305 | 1313 Mockingbird Lane |
| 306 | Author Dennis Young |
| 307 | Ziggy's West |
| 308 | THE GORE & MORE STORE |
| 309 | Angel Edenburn |
| 310 | Tatting by Liz  |
| 311 | Haunted Nozzel |
| 312 | Moose's Marvelous Woodburnings |
| 313 | Andrew Schwartz |
| 400 | Nick Jizba |
| 401 | LixChix |
| 402 | Vintage Posters |
| 403 | LixChix |
| 404 | Vintage Posters |
| 405 | LixChix |
| 406 | Vintage Posters |
| 407 | Skeleton Rose Media |
| 500 | US Toy Costume & Magic Co. |
| 501 | ClaytonArtistry |
| 502 | Jackie Butler Make & FX |
| 503 | Weems and Associates |
| 504 | Paul Polychronis |
| 505 | Gunslinger Soap For Men |
| 506 | Facepaint by Aunt Nancy |
| 507 | Count Kaufman Collectibles |
| 508 | Death's Head Press LLC |
| 509 | The Clever Bat |
| 510 | Apex comics |
| 511 | Charles Couture |
| 512 | Kookies |
| 513 | TrueTotalEmpireInc |
| 601 | Play It By Fear |
| 602 | Strangeville Studios |
| 603 | VonCreepy Creations |
| 604 | Wesley Southard & Wile E. Young |
| 605 | Zoi Global |
| 606 | 6K Press |
| 607 | Pinspoitation |
| 608 | Pallbeaer Press |
| 609 | Cobbs Cabinet of Curiosities |
| 610 | Charles Couture |
| 611 | Smelly Sam Independent Scentsy Consultant |
| 612 | Albert Perales Art |
| 613 | Cosmic Collectables LLC |
| 614 | Sinful Sideshow |
| 700 | Trick or Treat Studios |
| 701 | Hey This Guy Does Art |
| 702 | Laughing Frog Gallery |
| 703 | KC Horror Club |
| 704 | Toys From The Crypt |
| 705 | Midliand Empire Ghostbusters Car |
| 706 | Matthew Bauer |
| 707 | Midliand Empire Ghostbusters |
| 708 | VIP Luxary Chic |
| 709 | Fast Custom Shirts |
| 710 | Jeanetta Bagsby |
| 711 | Honey Suckle Creations |
| 712 | Snazztastic |
| 713 | Open Dead Inside |
| 800 | Fangtastic Fitness |
| 801 | Author  Reed Alexzander |
| 802 | Crytal Lee Miller |
| 803 | Oddball Art Studio |
| 804 | Geisler Mansion |
| 805 | Kim's Chaotic Creations |
| 806 | Silver Jinn Studios |
| 807 | Phantasy Realms Art |
| 900 | Camp Crystal Cabin 6 |
| 901 | The Spark Sisters |
| 902 | Ken Sagoes |
| 903 | 501st KC Division |
| 904 | Ken Sagoes |
| 905 | R2 Builders of KC |
| 906 | Vincente DiSanti |
| 907 | Doomsday Kingdom army |
| 908 | Haunted Hollow Omaha |
| 909 | CJ Graham |
| 910 | Director Patrick Rea |
| 911 | Walter Phalen |
| 912 | Cosplay Sabrina Von T |
| 913 | Arcrylic Terrors |
| 1000 | Michael Beihn |
| 1001 | Mark rolston |
| 1002 | Jennifer Blanc-Beihn |
| 1003 | Comic Book Artist Alé Garza |
| 1004 | Myths, Monsters & Magic |
| 1005 | Phil Fondacaro |
| 1006 | Terry Kiser |
| 1007 | Dee Wallace |
| 1100 | Atomic Cotton/12 Gauge Gore |
| 1101 | Dakota Livingston |
| 1102 | Kristina Klebe |
| 1103 | Fri-The Rumors/Sat-Switch Blade Saturday |
| 1104 | Tyler Mane |
| 1105 | Fri-Into The Shadows/Sat-The Devil and the Southern Worship |
| 1106 | Scout Tayler Compton |
| 1107 | TR Morris Crafts |
| 1108 | Billy Zane |
| 1109 | Lisa Zane |
| 1110 | Lisa Wilcox |
| 1111 | Leaf Filter |
| 1112 | Libbyland |
| 1113 | Castle Jones Vintage |